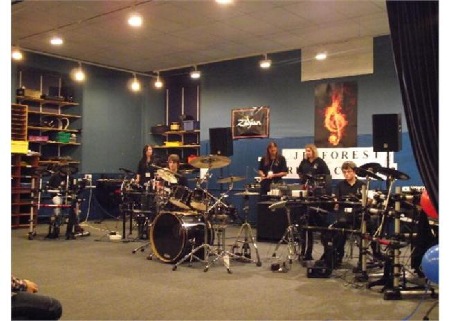 On the 1st of October 2010 we had our grand opening of the Jedforest Drum Academy where we use our 3 electronic kits to teach drum kit skills. We currently have 16 members age ranging from 7 to 50 and this is set to expand now we have the funding for the drum corps.

There are a lot of positive and exciting segments to the Jedforest Instrumental Band where we create a friendly safe environment where people of all ages and abilities can learn. In order to keep pace with the ever expanding brass section of the band and to satisfy demand we wish to establish the first ever Jedforest Drum Corps.

This project is the first of its kind in the Borders (outwith military/police and pipe bands). The new project is being made possible with the support of Make a Splash, who we cannot hank enough for their support.

Jedforest Drum Core - Funded by Voluntary Arts Scotland's make a Splash! Grant scheme – part of the People Making Waves programme co-ordinated by Volunteer Development Scotland. People Making Waves is part of the Scottish Project, which will create a cultural legacy from the London 2012 Olympic and Paralympic Games in Scotland. It is supported by Legacy Trust UK and by the National Lottery through Creative Scotland.