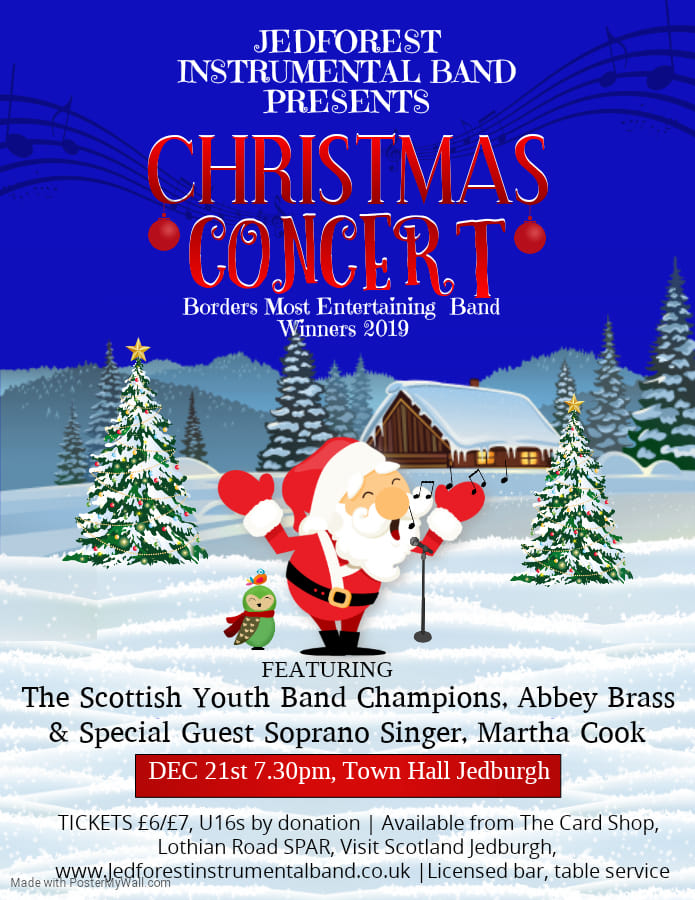 CHRISTMAS CONCERT
Our annual Christmas Concert will take place in the Jedburgh Town Hall on Sat 21st Dec.

Our Programme will include highlights from our recent ventures at the Borders Contest aswell as a plethora of Chrristmas cheese and cheer.
joining us this year will be our guest artist Martha Cook, an up and coming Soprano singer from the North of England.
We will also be joined by our newly crowned Scottish Champion training band, Abbey Brass (Jedforest).
A liceneced bar with table service is available and a raffle of prizes will take place.
Tickets are available from the Card Shop (on the high st Jedburgh), Lothian Road SPAR, Visit Scotland Jedburgh or Click the link to pre Order
Doors open at 7pm.

SCOTTISH YOUTH CHAMPIONSHIPS 2019
Thanks to a superb performance at the National Scottish Youth Brass Band championships held at Perth Concert Hall on Sunday, they were delighted to be crowned Scottish champions in the novice section.
The contest required the band to perform a 15-minute programme of music, including one set-piece chosen by the contest organisers.
This year the band based its entire programme on music from the prolific local composer Alan Fernie.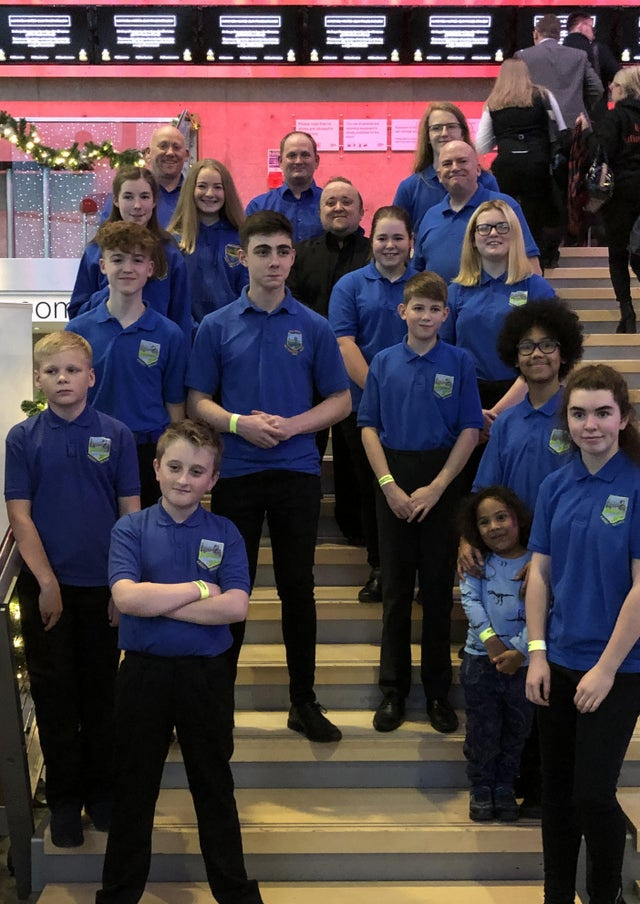 Jedburgh's Abbey Brass Band leave the stage after their superb performance at the championships in Perth.
Following a generous donation from the Borders Youth Support Scheme, the band were also able to commission Alan to produce an entirely new and unique piece of the music just for Abbey Brass.
The new piece, called The Jethart Snail, received its world premiere at Perth, and was warmly received by the audience and the contest judges.
Abbey Brass competed in the section against 14 other bands from all over Scotland.
Despite only having a modest 12 youngsters on stage (when some bands were able to field more than 30 players), and with some who only joined the band very recently, they performed a strong and confident set under the expert baton of their conductor, Stuart Black.
Come results time the band were overjoyed to be given a gold award – performances are graded bronze, silver and gold by the judges – and even more delighted to be placed first and crowned Scottish champions.
The band's manager Neil Ball told The Southern: "This is a great reward for all the hard work, commitment, and hours of practice each player has put in throughout the year.
"It also could not happen without the support Stuart Black and especially the parents who commit to bringing their children to us each week throughout the year.
"The amazing work by the region's instrumental teachers at schools throughout the Borders also needs to be recognised too.
"It really emphasises the importance that instrumental music tuition is provided to our young people at school, and the immense benefits this leads to throughout their childhood and onto the rest of their lives.
The contest is not quite the end of a busy year for the band, who have entertained crowds at Denholm Fair, played at the Sound Cycle youth music festival at Harestanes in the summer, and recently were recorded for a new Borders youth music project that is about to launch on all major music streaming/download services, as well as many other concerts through the year.
They are not finished yet, and have a joint Christmas concert with pupils from St Mary's School at Bowden Kirk on Thursday, December 5, followed by their Christmas concert with the Jedforest Instrumental Band at Jedburgh Town Hall on December 21.
Abbey Brass rehearse on Sunday evenings in their band room in Jedburgh and welcome any young brass and percussion players who are interested in playing in a brass band.
If you'd like to know more then look them up on Facebook (@AbbeyBrassJedburgh)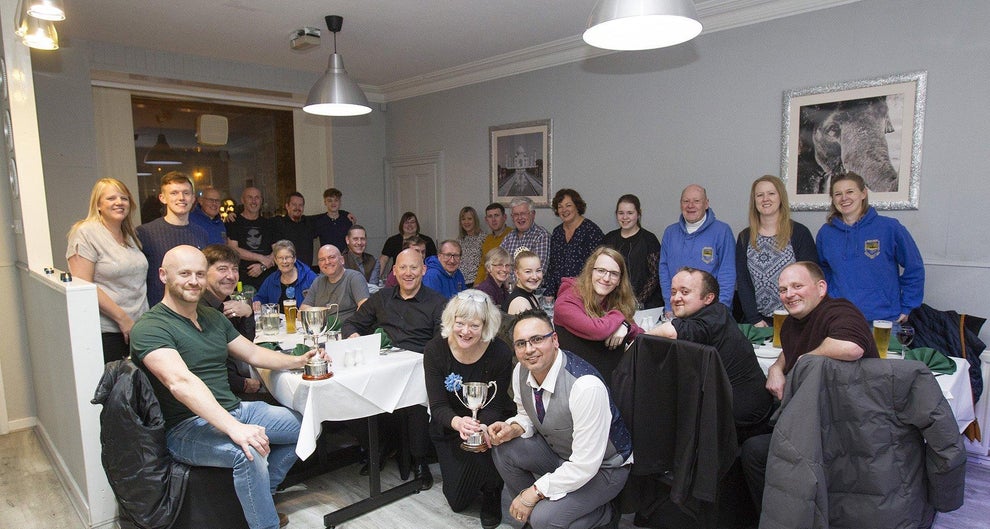 BORDERS CONTEST 2019 RESULTS

In all, 13 rival bands from sections two to four presented their 15-minute mini concert-style programme in a bid to impress the judges at North Parish Church.
And from the Borders entries taking part, it was Jedforest Instrumental Band which came out on top, taking home the most entertaining band accolade, third place overall and best-placed Borders band award playing the peices Balkan Dance, Flying Mallets, Lux Arumque and Nightingale Dances.
JIB, which performed on the day under the baton of conductor Phil Rosier, bagged an added accolade courtesy of its percussionist, Fiona Neary. She was awarded the best soloist title for her rendition of Flying Mallets on the xylophone.

"The Borders Brass Band Association went to great lengths to ensure the facilities were up to the mark, with separate rehearsals rooms and adequate storage space for the hundreds of musicians arriving on the day.
"Two very experienced adjudicators listened to all the bands and decided the final outcomes. Paul Drury and Derek Broadbent are internationally-renowned figures in the brass band world.
"And Border bands were well represented. St Ronan's and Selkirk Silver were highly placed and Langholm Town won the 3rd section and deportment prize.
"Peebles took the 4th section title.
Final results in the overall contest were as follows: 1 Lochgelly, 2 Broxburn and Livingston, 3 Jedforest Instrumental, 4 Coalburn Silver, 5 St Ronan's Silver, 6 Selkirk Silver, 7 Shotts St Patrick, 8 Croy Silver, 9 Langholm Town, 10 Peebles Burgh Silver, 11 MacTaggart Scott Loanhead, 12 Hawick Saxhorn and 13 Queensferrry Community Brass.
Each band receives a traditional written adjudication and a unique record of the performance through a 'voice-over' live recording with a spoken review.

BORDERS CONTEST 2019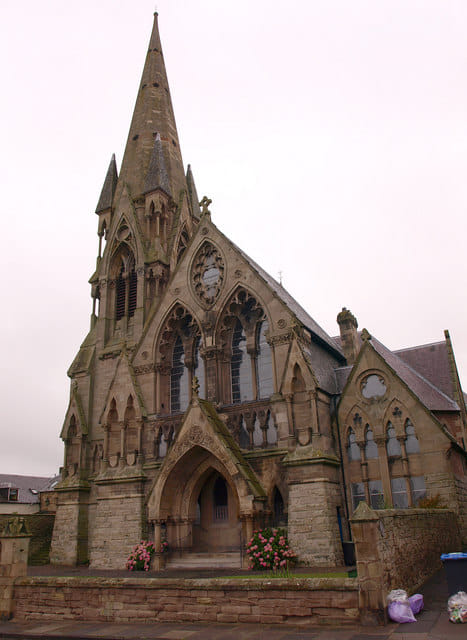 The Jedforest band is currently in preparations for this years Borders Brass Entertainment Contest. This year the contest will be held in the Kelso North Parish Church on Sat 2nd Nov.
Under the baton of band MD Philip Rosier, the band will put together a 15 min programme of entertaining music for the adjudicating team of Paul Drury and Derek Broadbent.
We will be up against 16 other bands from all across Scotland and looking to lift the title of the Borders Entertainment Champions 2019.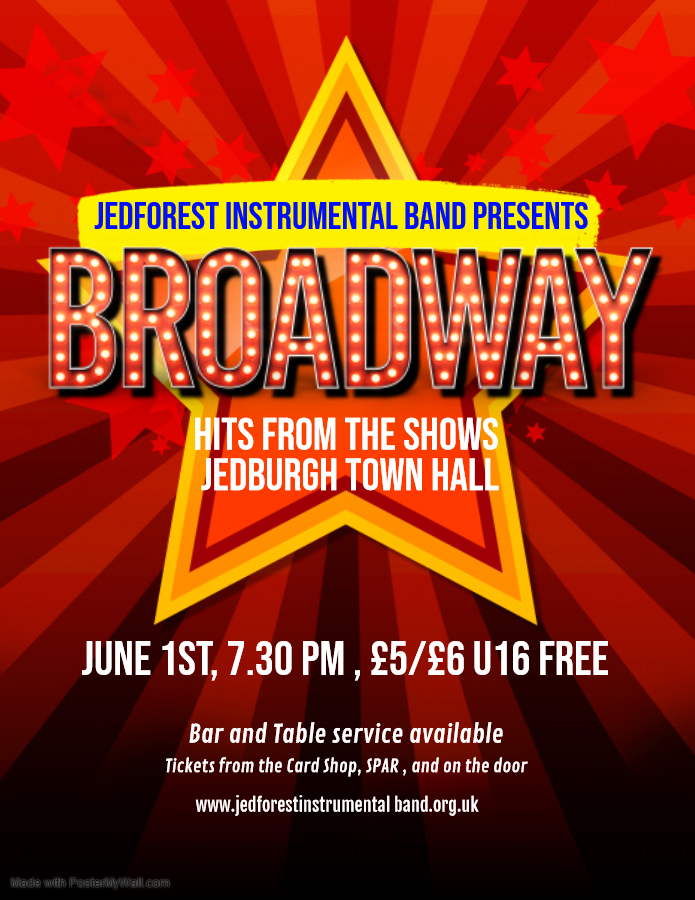 The next JIB Concert takes place on Sat 1st June in the Jedburgh Town Hall.
The evening will be based around an evening of music from the musicals with hits from shoes such as Hairspray, Les Miserables, Charlie and the Chocolate factory and even We Will Rock You.
As well as the senior band we will have some guest singers, some singalong song sheets and of course our Junior band, Abbey Brass (jedforest) will also have a programme packed with hits from the shows.
Doors open at 7pm with a fully licenced bar and table service available .

Tickets are priced at £5/£6 and Under 16s get in free.
Tickets are available at the Card shop High st Jedburgh, Spar on Lothian Road and at the door on the night.
You can also reserve your ticket buy clicking here. Tickets

Position Vacant
Due to Player relocation we currently have vacancy on Principal Cornet.
Situated in the Scottish Borders town of Jedburgh on the A68 between Edinburgh and Newcastle the 2nd Section band currently have a vacancy for Principal Cornet.
We are a highly motivated organisation with over 30 regular players in the Senior band with an average attendance of 24 players per rehearsal. The band competes a minimum of twice a year and have just had a solid 5th place finish at thsi years Areas. We also hold several concerts in and around the Scottish Borders and also takes part in many public engagements throughout the year.
Under MD Philip Rosier and band trainers Rob Hume and Cameron Mabon, the band rehearses twice a week on Sundays and Thursdays at 7.15pm in our own purpose built band hall in Jedburgh.
The position may suit any up-and-coming player looking for an end seat or an established player looking for a change of scene.
For further information call or message David Lightbody on 07852230477
or apply by clicking here Contact Us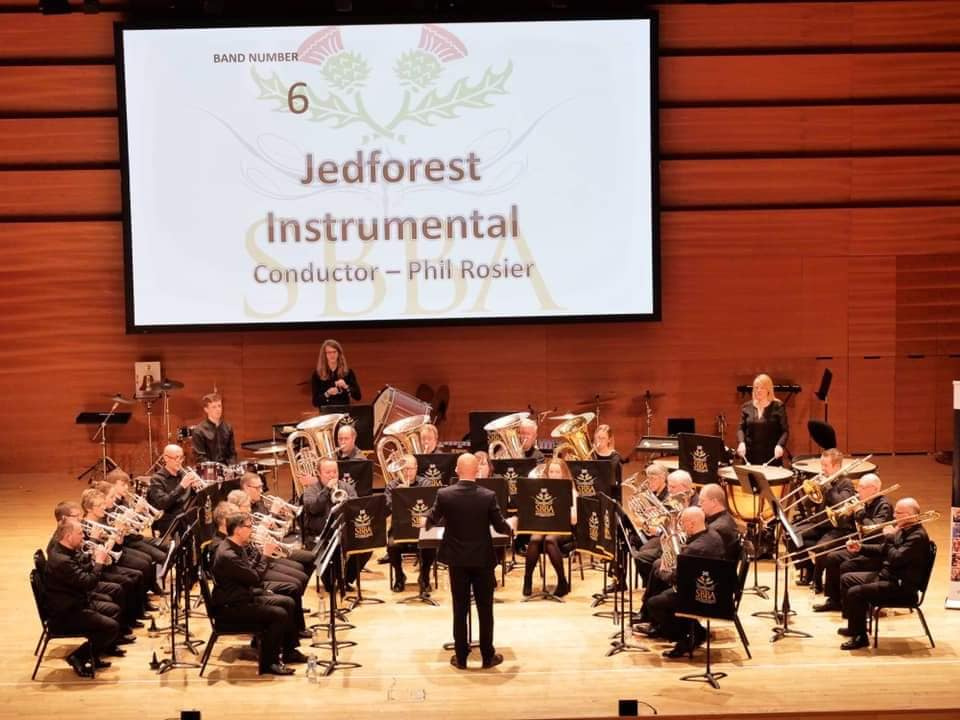 The band finished with a very creditable 5th place in the 2nd section at this years Scottish Championships, a result that leaves us as the Borders highest rated band.
Playing off the No 6 draw the band took to the stage in good spirits after recruiting well with the the returning Steven Clinton on bumper Euph and Alex Lewis on Rep.

As ever MD Philip Rosier had prepared the band well and it showed with the band playing well with great solo contributions from Flugal player Stuart Black, Solo cornet Rob Hume and Eb Bass player Helen Orde.
You can hear the performance here.
(sorry not the best audio and as ever use head phones for best sound)
Rise of the Pheonix
Full Results
2nd Section – 11 bands RESULT
Saturday, March 9
Adjudicators: Sheona White & Brett Baker

Test Piece: Rise of the Phoenix

Band Conductor Points Place
Newmains & District Michael Marzella 188 1
Coalburn Silver Gareth Bowman 187 2
Lochgelly Paul McKelvie OBE 185 3
Clackmannan District Ross Brotherston 184 4
Jedforest Instrumental Phil Rosier 183 5
Broxburn & Livingston John Boax 182 6
St. David's Brass John A. Dickson 181 7
Selkirk Silver Charlie Farren 180 8
St. Ronan's Silver Kenneth Letham 179 9
Shotts St. Patrick's Andy Shaw 178 10
Croy Silver Kenneth Blackwood 177 11

Scottish Championship results
Scottish Championships 2019
The band is currently in preparations for the upcoming Scottish Brass Band Championships 2019 which are held in the Perth Concert hall, Perth on Sat 9th March.

Playing in the 2nd Section the band will be playing Darroll Barrys 'Rise of the Pheonix'. A tricky test peice which is full of traps and technical passages which will catch a lot of bands out.

The band will once again be Conducted by Phil Rosier.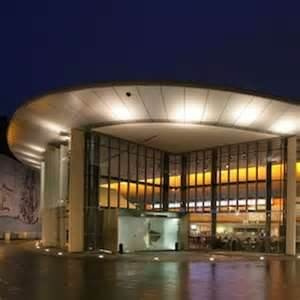 The band started the new year off in style with another march round the town.

Starting at 9.30 am the band marched around Jedburgh, a tradition that goes all the way back 1854, only stopping to take on board some much needed sustinance along the way.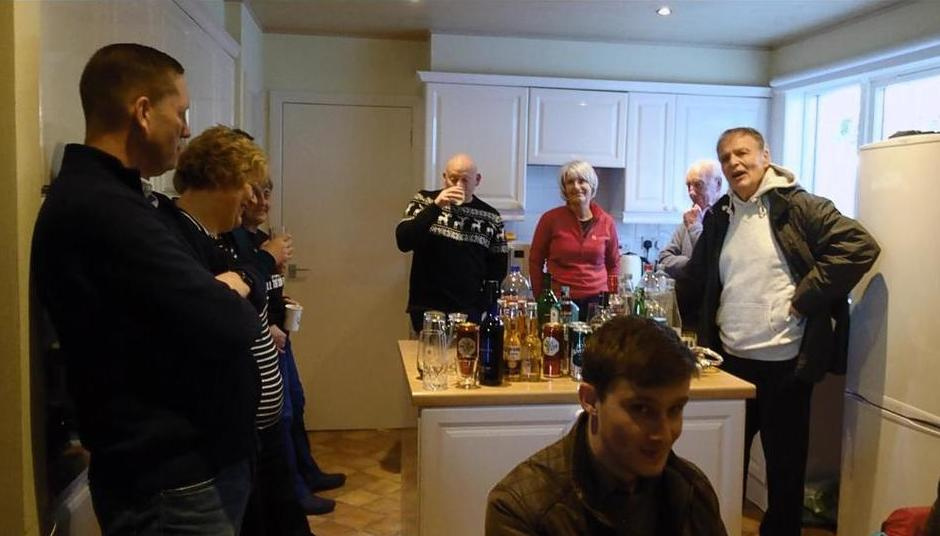 Many Thanks goes to Laura Lightbody, Joyce Lightbody, George Wright, Kevin and Jackie Hill and to Dawn and the staff at the Cannon for all their hospitality throught the day.