Jedforest Instrumental Band is based in the Scottish Borders town of Jedburgh
Instituted in1854, the JIB is one of the UKs oldest continuously running Bands.
We are now one of the most progressive Brass Band organisations in the United Kingdom. Having won a Major National award in 2005 in recognition of our presence and impact whilst raising awareness of Brass Music nationally. Hailed as a model of success the JIB continue to explore new ground, fortify tradition and pioneer uncharted area's of excellence.

As many as sixty players are involved in the band organisation, ranging in age from 7 to 85. We have two brass bands - a senior band and a "Training" band, which perform regularly throughout the year, at concerts, local festivals, church services, and band contests.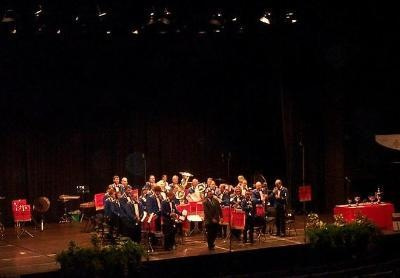 On the contest stage the band won its first National title in 1969 and since the turn of the century the Band has enjoyed a great deal more success on the contest platform. In March 2012 the Band won the Scottish 3rd Section Championships as well as the 2nd Section title in 2015 and In 2002, 2004, 2012 and 2015 the band represented Scotland at the National Finals in Torquay, Harrogate and Cheltenham and on the basis of our contesting performances in 2004, 2012 and 2015, we were declared "Band of the Year" by the Scottish Brass Band Association.

In 2003, 2005 and 2019, our junior/training band became Scottish Youth Champions in the Novice section, as well as winning other contests. With the inclusion of several adults, the junior band became a 4th Section contesting band in October 2003, being re-named Abbey Brass (Jedforest) and conducted by Cameron Mabon. They came 2nd (out of 4) in the Fourth Section at the Borders Entertainment Contest in November, and 4th overall for entertainment. The Band is now under the conductorship of Stuart Black

Abbey Brass is the ideal outlet for any player to try their hand at ensemble playing before making the move to the senior band.

Rehearsal times are;

Learners (Band Buddies) - Sunday 6:00pm

Training Band (Abbey Brass) – Sunday 6:00 - 7:00pm

Senior Band – Sunday & Thursday 7:15 – 9:15pm

Drum Academy – Sunday, 5:30pm – 7:00pm

All are held in our premises at The Mission Hall, 1 The Friars, Jedburgh, TD8 6BN

All practices take place in the custom-designed band hall, opened in March 2001 by HRH The Princess Royal. Visitors are welcome to attend any of our practices. The band hall is also used by other local arts organisations, and is an excellent venue for chamber concerts.